Welcome to Guptill's
As one of the largest dealers of lawn & garden equipment in  Eastern Maine, Guptill's Lawn and Garden has been serving all of your power equipment needs since 1982.  Located on U.S. Route One in East Machias, we welcome you to stop in and browse our many lines of equipment, accessories and safety products. We carry something for every season. Whether that be a Toro snowblower to tackle the Noreaster headed our way, a new Stihl or Husqvarna chainsaw for spring yard clean up, or a Bri-Mar dump trailer perfect for handling fresh soil for the family vegetable garden. We also carry a large line of farm tractor implements,  from rock rakes to bush hogs, for the larger jobs on your "to do" list.
Our company not only takes pride in providing you with quality equipment, but here at Guptill's we offer professional service on most of the products sold. If you're looking for a friendly staff that treats it's customers with respect and courtesy and provides excellent customer service Guptill's Lawn & Garden is the place to go!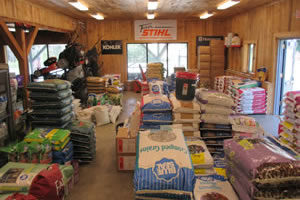 Blue Seal Feeds
We have recently expanded our product lines to include Blue Seal Feeds. Blue Seal feeds do not just follow standards, they set them. All Blue Seal feeds are American made in award-winning plants certified by the American Feed Industry Association. Whether you are managing a large dairy operation, running a small farm or feeding the family pet, your satisfaction matters. We believe every customer is part of our family, and we are here to help do what is right for you and your animals.
Visit us today!
Guptill's Logging and
Guptill's Lawn & Garden
Route 1
East Machias, ME 04630
Telephone: 207-255-4130
Fax: 207-255-4096
Web: www.guptills.com
Specials for you…
Our Current Specials
Mention that you saw our website and take $5.00 off any order of $50.00 or more!